Running in the rain? Want to take a Selfie on your SUP board then read on for our review of Overboard's Waterproof Accessories.
The days are getting shorter and the weather is starting to cool down, it's only a matter of time for the rain to come.
A melancholy thought, I know, but a good excuse to test out some waterproof gear … maybe that's a bit of a stretch … I would much rather be testing these cool accessories lounging on a sunny beach and hitting the surf!
The first products I'm looking at are waterproof cases from Overboard. This Surrey based company is the industry leader in waterproof bags and cases. I'm having a look at their phone case and tablet case. They all have the same slide seal system to open and lock the cases and they are waterproof, snow proof, dirt proof and sandproof.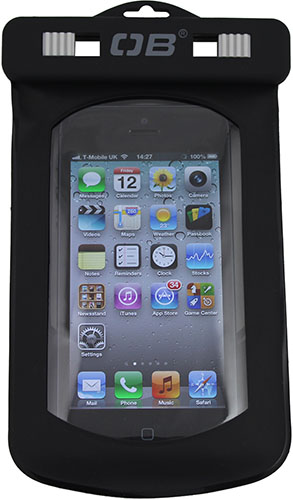 The cases have a clear LENZFLEX front and back which means you can view and interact with your screen and take clear pictures and videos. However looking on over-board.co.uk there is an underwater photography warning that reads "Capacitive touchscreens don't work underwater, so you may find it difficult to take photos underwater. To take video underwater, simply start filming above the waterline". They also produce a camera case with the same technology so if you wanted to take underwater pictures the best way would be using this with a digital camera with a proper button to push down, not a touch screen. You also have to be careful with your phone battery if you are going to be in cold water because it will quickly drain life out of it.
I imagine the case was designed with sailing in mind. It makes sense if your boat is capsizing or your going 'overboard'. The phone case has now become part of my travel pack so I'm looking forward to my next surf trip and getting some pretty amazing videos and, hopefully, pictures.
The other accessory I'm looking at is headphones from ODOYO. They too are waterproof, dustproof, freezeproof and shockproof. These earphones are great — they go right into the inner ear, then expand to form a seal, so they are essentially noise cancelling. The way they work reminds me of using those orange earbuds that you squeeze down and pop in your ears and they expand to form a seal. What I really like about these earphones is that they don't fall out of your ears when moving around. You can run, swim, surf and snowboard using these headphones and they will be comfortable and drown out unwanted noise. Key features include:
* Earphones with Remote and Mic
* Waterproof, Dustproof, Freeze proof & Shockproof protection
* High definition 10mm drivers ensures all-round music
* Waterproof up to 1m and durability; sweatproof function for long-lasting performance
* TPE cord materials ensure safety and flexibility
* Fully 'active' ambient noise-cancellation in in-ear design
* Excellent comfort from 3 sizes of proprietary eartips
* Travel bag for convenient storage and mobility
I was hoping to use the ODOYO in association with waterproof case but there was no connection for the headphones to plug into the case. After looking at the Overboard website I have seen that you can buy cases with audio ports.
ODOYO do have an American website www.odoyo.com/, but if you want to buy them in the U.K. then head over to www.amazon.co.uk. They will set you back around £25