Chichester played host to the largest Stand Up Paddleboard (SUP) event the UK has ever seen. Hundreds of people flocked to the beautiful countryside for the UK's first ever triathlon event where partipates SUP, run and bike.
162 entrants took part and out of those participants around 40% of were women.
"The reaction to #supbikerun in the UK has far exceeded our expectations and we're totally blown away with the positive feedback we received," said Event Director, Sam Lutman-Pauc. 
"There's a large group of people out there that have always aspired to do a triathlon but have either been put off by the swim or the sheer competitiveness of a typical tri-event. The fact that we can position our event in some of the most stunning locations in the UK also makes it massively desirable to anyone that loves the great outdoors and a fun challenge."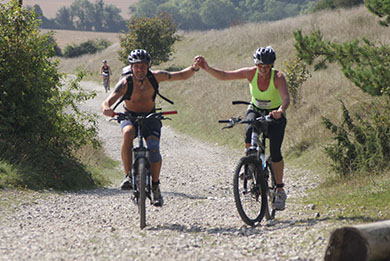 Originating in Hawaii and California, the new breed of triathlon, was named by the BSUPA (British Stand Up Paddleboard Association) as the largest ever SUP event to be staged in the UK. Competitors of all ages from all over the British Isles took on the 3K SUP, 30K off-road bike and 5K trail run across a stunning West Sussex location, making it the UK's most scenic tri event.
Following the huge success of the event, #SUPBIKERUN plans to roll out the event to various locations in 2015 and put on several UK events throughout the year. Keep your eyes peeled and become part of the tri revolution.