Nikki Bartlett has had a successful year. She has become both Scottish and British middle distance triathlete champion, came second overall female at Iron Man UK 70.3 and took the top spot in the Scottish Olympic Distance Championships. Nikki has taken time out of her busy schedule to give us some tips on how to take on a triathlon.
Starting off as a triathlete novice, struggling to swim more than 6 x 100m sessions in the pool. I have accumulated many 'lessons learnt' along the way to where I am today. At present self-coached, so I learn from my own mistakes and successes.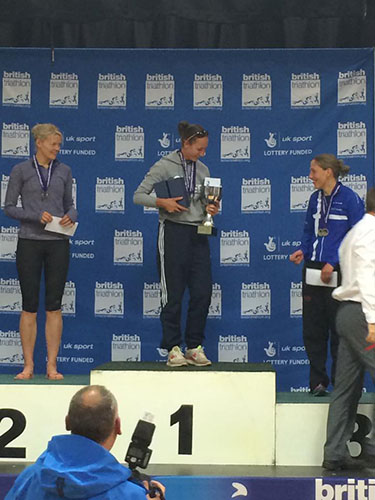 I have built up my training mileage and intensity steadily, incorporating many key sessions, which many athletes may ignore.
There are many 'tips' to discuss, with that in mind, just one feature isn't enough. So here are some tips to start you off in this edition.
Tip number 1: Get a fitting in each discipline
This is essential for comfort and to prevent any unnecessary injuries. Initially this will come at a cost, but over-time it will save you from repeatedly buying different brands, physio and massage treatment!
Swim: Check out your local lake and see if they have an opportunity for them to fit a wetsuit on to you. You can then try this out to see if it suits your swim style. Each athlete will fit differently dependent on their swim style, whether you like a bit more buoyancy etc. A wetsuit is very individual, and I have known athletes to experience bad back problems due to not having a wetsuit fitted for them.
Bike: A bike fitting is essential, especially on a TT bike. If you race long distance like I, then sitting in a comfortable position from 2.5-6/7hours is essential.
Run: Go to your local sports shoe shop which allows you to try and test different models. This will allow them to evaluate your running ability and aims-allowing them to gauge how many miles you will be clocking in training. They will choose a shoe that's right for your running style and foot-type. When you purchase the right shoe from the store, you can then continue with the same model and brand.
Tip 2: Race nutrition
It is essential to choose brands and products that suit your stomach. Once you have established this, you must practice these products in training-but at your 'race pace', as your stomach will absorb this differently to that of an 'easy' training ride for instance. This will allow your body to practice digesting food at your desired race intensity.
Also top tip for race day-make sure you have a look at the nutrition on the course. Don't rely on nutrition that you can pick up along the way, it's always better to have what you know and are used to, with you. For instance, some courses don't have nutrition on the run, and only fluid. So if you know that you take on two 'x' gels, then have this in T2.
Tip 3: Variety in your training
Set out a progressive training programme which slowly builds up through the winter months. Make sure you incorporate key session such as strength and conditioning including core work-this doesn't need to be done at the gym, but can be done at home. You only need some dumbbells, a mat, a swiss ball and maybe some kettlebells. Make sure you incorporate a mixture of intensity and duration across swim, bike and run. If you have a coach, make sure you work on your technique in all three disciplines.
Seek some form of cross training in the 'off' season (after a season break), or after a competition, such as the cross trainer, Or by going on your mountain bike instead of your usual road or TT bike. It's also beneficial to add in yoga and pilates into you training to help flexibility and mobalisation.
Make sure your training program is tailored to you and your life stressors, aims and goals, and other life commitments. The key to training is consistency. So if you can fit in 6-10 hours of training, then do that, rather than trying to squeeze in 12-15 and essentially burning out.
Tip 4: Have fun!
This is so important; remember why you started out in triathlon. Incorporate family and friends into your training and at races and let them be a part of your journey. If your friend is throwing a party in the afternoon, but you have a run scheduled. Then run there. Or if your kids want to go out on a bike ride, run along-side them.
Tip 5: Training program
Not all of us can afford a coach, but write a program out, so that you can structure training, working, family and a social life. If you have any friends who are a coach, or know an experienced physio or someone who has experience in one of the disciplines. Let them have a look over your program for advice, and to make sure your goals are realistic.
Remember a training program isn't set it stone, if you need an extra day off, have it. If you feel a niggle coming on in your quad for instance, do a few more swimming sessions. Listen to your body!
Tip 6: Practice in training what you might face in your race
If you have a planned race that is renowned for being cold, then stimulate these conditions in training. For the swim – learn how to deal with cold swimming temperatures and choppy wind conditions. In the bike section; know how many layers you need to wear to stay warm, but not over-heat. Make sure you know the course profile and drive or even ride the course before race day (obviously don't ride the course the day before the race)! The same with the run section.
Tip 7: Do some local smaller races in the lead up to your first triathlon
This might be a local open water swim, or a running event. This will help with motivation and monitor how your training is going, and what you might need to adjust in your training programme.
Nikki Bartlett is a Triathlon champion and is sponsored by  SUNDRiED. To find out more about Nikki and SUNDRiED  including their range of t-shirts and accessories then visit www.sundried.com or follow the team on Facebook and Twitter .