Is buying your Aldi ski-wear worth it? Read our review to find out.
It's been a funny old season. It started well, then the temperatures rose and the snow melted. In the UK we had an unprecedented amount of rain, but the temperatures stayed stubbornly high for the time of year. We abandoned plans to hit the slopes in the early season as there was no snow.  Mid-February was the first time we managed to get out and test out Aldi's skiwear.
Why test Aldi ski-ware out? Well, I was curious as to whether something this cheap was any good. Do you really need to pay hundreds of pounds for gear? I reviewed the short sleeved merino wool base layer, the merino wool long johns and the Ski Pro Jacket.
I tested these out on the slopes of Courchchevel and the three valleys. The first day was sweltering. I wore the Aldi merino wool base layer. It's made out of 100% merino wool and is not as soft as ones I've had before, but its only £14.99 so what do you expect. On the bright side the base layer does not itch. After a day of sweating like a pig in it does not smell which is a good sign. Higher up the mountain where it was cooler it did keep me warm enough. I have also worn the base layer hiking along the North West coast and it did the job. So for the price it does seem worth buying.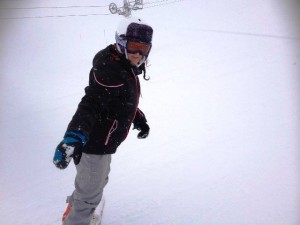 The longjohns are also 100% merino wool and cost £14.99. Due to a packing error they ended up being the only ones I brought. Again it is not as soft as other merino products I've tried, but it is not itchy. I have worn them for a week and they do not pong too much.
I tried out the medium baselayer (12-14) and it was a little tight on me, I am a size 10 or I could just be in denial. The longjohns also a medium were a little loose both around my stomach and my legs so go figure.
The Ski Pro jacket is £34, it has a powder skirt which is a good sign – not that I needed it on this trip. As mentioned above our first day was a scorcher, at first I did not think that it had under arm zips but after some feeling about I found them and zipped them down. I'm not sure what a difference they made as it was warmer than the UK and wearing a big jacket designed to keep you warm was not the most appropriate attire. At lunch we were sitting in the sun in our t-shirts. Another discovery I made while trying to fish my ipod from my inside pocket was it has a lens cleaner. This I did not expect, as my Helly Hansen jacket which is a lot more expensive does not have one.
After a few days of wearing the Ski Pro jacket I can report that it does keep you warm, the wind does not cut through and it looks nice. However, after about a week of getting the jacket the zip tassel was unravelling and by the end of the snowboarding holiday the lining in the pocket had torn.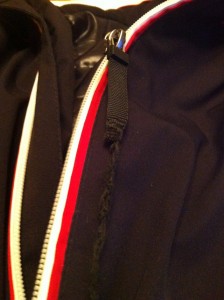 All in all if this is your first ever snow holiday or your coming back into it after a long hiatus and not sure if you will go again then go ahead and buy the jacket at £34 you won't lose anything. But if you are a regular skier or boarder and you're in the market for a new jacket save your pennies and buy one that's a bit more robust.