Ultra marathon runner and TV presenter Lowri Morgan is one of only two women to ever have completed the 350-mile 6633 Arctic Ultra. She speaks to Sea to Sky editor Cat Hughes on ultra-running, Wales, and her plans for the future. 
What inspired you to take part in your first Ultra Marathon?
I do not remember a time when I did not run. According to my parents, even as a toddler I was always running off on a new mini adventure! At 12 years old, I started racing in athletics and cross country around the UK.
Luckily, through my work as a broadcaster, I have been very fortunate to have travelled the world on sporting adventures – in 2003 I was one of only 80 in the world to go to the wreck of the Titanic. I've also dived with sharks, jumped out of planes, spent time with indigenous tribes, skied down some great mountains – but running shoes have always been my constant companion.
It was in 2008 when S4C (the Welsh language TV channel) decided on the production of the series Ras yn Erbyn Amser (Race Against Time). In the first series, I would set out to compete in my first ultra-marathon event – the Jungle Marathon, alongside the Amazon river in Brazil's beautiful Para region. I finished 10th overall, and thoroughly enjoyed it, and I thought to myself, I could get used to this. The first series, which I also produced, won the highest accolade at the Celtic Media Festival, so a second series was commissioned that saw me racing the 6633 Ultra.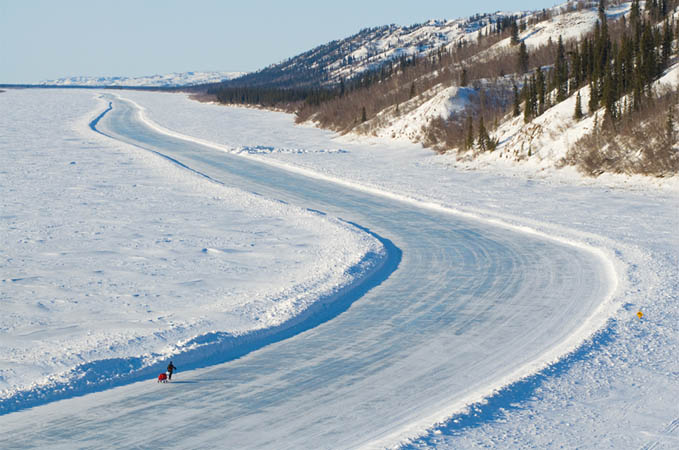 Which ultra-marathon was the hardest – the Amazon Jungle Ultra or the 6633 Arctic Ultra?
The Arctic. Some races are humbling: This one stripped my soul bare, but it also rebuilt it. It was the toughest thing I had done physically, mentally and emotionally, but it was also one of the best adventures and experiences of my life.
Ultra marathons are test of mental, as well as physical, endurance – how do you deal with that side of it?
I'll give you an example – in the jungle my feet were a mess – they were septic, had deep blisters, trench foot, and I had lost all of my toenails. I had been bitten 40 times by hornets. I was about to give up. And then I remembered the last thing my mother told me before I left for the Amazon – a Confucius quote: "Glory is not by never falling but in the way we rise when we do fall".
My body gave up, but this is where my mind took over. It's amazing what the mind can do. All of a sudden, when I thought I could no longer carry on, I found a 6th and a 7th gear, and by putting one foot in front of the other, it meant being one foot closer to the finishing line. The pain even disappeared.
In the Arctic it was a constant struggle with my 'demons' telling me to give up, but once I realised and had accepted that the pain of failure was far greater than the pain I was going through in the race (including fractured metatarsals), everything became easier. I didn't realise how much this race could reveal to me. It's very hard to understand in the beginning that the whole idea is not to beat the other runners; eventually you learn that the competition is against the little voice inside you that wants to quit.
Where is your favourite place to run?
Wales – my Green Gym – and in particular around the Gower Peninsula, since it's where I'm from! We've got the mountains, great coastal trails, and beautiful beaches to run on.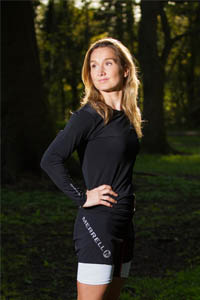 What do you enjoy about running the most?
I love the freedom it gives me, the space to be by myself, the beautiful countries I have had the privilege to race in, pushing the boundaries beyond what other people consider normal – and lastly, the people I have met along the way who have inspired me, made me dig deeper, and strive to be better and believe in myself.
Do you listen to an MP3 player when you run? If so, what do you listen to?
Yes, but only when I need that extra push. I did not use anything in the Amazon or Arctic because it wasn't recommended. However, if I need to speed up, I listen to rock music. If I need to keep plodding on, I listen to audio books. And if I'm looking for some enlightenment, I enjoy listening to classical music!
What are your plans for the future?
I am very lucky that most of my work involves working on adventure and sport programmes. However, I don't get to race much due to my work commitments on weekends, but I'm more of an adventure runner anyway. I love exploring new places and running far. So, if all goes according to plan, there will be more running challenges in 2014 and on S4C.
You do a lot of work for the Welsh language TV channel S4C  – is being Welsh, and a part of the Welsh language culture, important to you?
Yes. I suppose I've always known that embracing my heritage and culture was important, but I grew up surrounded by it. It wasn't forced down my throat or analysed – it was just a part of my routine and who I was… who I still am.  I'm very proud of my roots and that I can speak both Welsh and English fluently…. and some French!
Do you have any words of wisdom for someone who may be thinking about taking part in an ultra-marathon?
Someone once told me that apparently there are two rules in ultra-running – to get to the start line and to get to the finish line. I created a third one in my head – to keep my head down and take one step at a time. It may sound simple, but it's the truth. I never gave up because I concentrated on just putting one foot after another. And that is what I would pass onto a novice ultra-runner.
Do you have any top training tips for an ultra-marathon?
They say that nobody plans to fail, they just fail to plan. I know I'm not the fastest, strongest nor most experienced runner out there, but when I go into a race, I know I can be the best prepared athlete on the start line.
For the 6633 ultra, I made the training harder than the actual race – I was training 30hrs a week, running 150 miles a week. In 12 months I ran 4000 miles. I trained with Elite Forces in Sweden, ran in industrial-sized freezers, would run up and down Snowdon non-stop three times. I ran a 46 mile race around Brecon Beacons, and then ran home to Gowerton, Swansea  – a total of 105 miles in 21hrs.
I spent hours packing and unpacking my kit at home, the soldiers taught to me assemble and disassemble my cooker whilst being blindfolded. When you're exhausted, sleep deprived, hungry and freezing, even the simplest of challenges like doing your shoe laces is a nightmare. Success on this race was down to three things – a third was down to your physical strength, a third depended on your mental attitude, and the last third was down to your personal administration or your systems, as we called it.
Obviously not everybody needs to train like that, but the most important session during the training week is the long run. Even if you can't fit all of your training in because of other commitments, don't skip that all important session. I'm a big advocate of the back-to-back sessions also – two long runs on two successive days.
What do you do to relax?
I studied classical music, specialising in the voice at university, so when I have time, I try to fit in some singing in choirs. Going to the cinema is something my husband and I enjoy together, along with socialising with my family and friends – and nothing beats a lovely day out in the great outdoors!
Lowri Morgan is an official ambassador for Merrell, the outdoor footwear and apparel specialist. For the latest products and ambassador news, visit www.merrell.co.uk