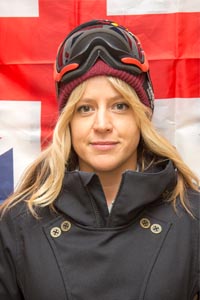 Jenny Jones
Pro snowboarder, Slopestyle
Likes: Gin & Tonic and Surfing
When Jenny Jones began snowboarding at the age of 17 in 1998 on a dry ski slope in England, she never thought she would be heading to the Olympics to represent her country.
"It was never really an option before because my discipline has never been in the Olympics." Jones told the BBC after she won sliver at the Slopestyle World Cup in New Zealand in 2013. The 2014 Winter Olympics will see Slopestyle debut as on Olympic sport.
Jones, who hails from Bristol, did not grow up taking annual ski holidays. She has grafted all the way to be at the top of her game.
A year after her first dry ski slope lesson, Jones went on a trip with her college to the Alps. The next year she did her first season in the French Alps and took a job as a chalet girl to pay her way, and by the end of that season she had won her first British Championships.
The story of her first season reads like the 2011 film Chalet Girl, when the lead character, Kim, desperate for a job takes a role as a chalet girl and wins her first snowboarding competition.
After that she slogged her way through season after season, taking jobs anywhere she could – in a factory, bar, a doughnut shop, hotel and restaurants. Anything that would give her the funds to do what she loved.
"I never went in to snowboarding thinking I would be a pro snowboarder. I just wanted to go snowboarding. I was just going to do a year of snowboarding before I had to go to university and I didn't look any further than that." Jones said on a video for Relentless.
Two years after winning her first British championship Jones started to get sponsors. This meant she could go State-side to compete. That same year she was nominated International Rookie of the Year.
Jones was beginning to fly high. She was invited to the X Games for the first time, but she had a bad crash at the practice and was out of action for eight months.
"Those times when you get hurt everything is on the line, because it's your whole life everything stops," said Jones.
After this set back Jones pick herself up, and put all her effort into her sport. It paid off. In 2008, five years on, Jones was invited back to the X Games, where she made it to the finals. She went back again in 2009 and 2010, where she won gold.
In 2011 Jones became the first British female to win a medal in the Arctic Challenge in Oslo – the first year it allowed women into the competition. Jones is also no stranger to the snowboard movie scene after appearing in Dropstitch, Transfer, Last Winter and Float.
Now for the 2013/2014 season she is set to be part of Team GB heading to the Winter Olympics in Sochi, Russia. It looks like all that hard work and the crap jobs paid off.
I'll leave you with some inspirational words from Jones.
"I'll look back knowing I went in the direction I believed in and didn't kind of wuss out. How many people get a change to do this?"
Jenny Jones.