Discover why dog sledder Jeninne Cathers only wants to live off grid in the Yukon Wilderness.
In the Yukon Wilderness, where dog sledder Jeninne Cathers lives with her parents, 64 huskies and six puppies, the temperature can drop to below -50 – that's without a polar vortex.  She lives few miles outside of the Yukon capital, Whitehorse, and over six miles from the nearest road. The only way to access her cabins is by boat in the summer or dog sled in the winter.
Jeninne is the youngest person to complete the hardest and most extreme dog sled race in the world, The Yukon Quest. The race takes percipients over mountains, glaciers, frozen lakes and rivers as they follow in the footsteps of the prospectors of the Klondike Gold Rush.  All this happens in February – the coldest month of the year.
Jeninne and her parents make a living by taking guests canoeing, dog sledding and hiking through the northern Canadian wilderness.
Sea to Sky speaks to Jeninne about living off grid in the wilderness, dog sledding and the Yukon Quest.
When did you start sled dog racing?
My first significant sled dog race was the 1987 Percy de Wolfe Memorial Mail Run, a 210 mile race from Dawson, Yukon to Eagle, Alaska and back.  That was when I was 16.
How did you get into sled dog racing?
When I was growing up, my whole family got interested in sled dogs.  We got our first husky as a pet when I was nine, and then got a few more – enough to have a couple of small teams.  When I was 12 we moved to the bush in the Yukon, to a cabin about 30 miles north of Whitehorse and six miles across Lake Laberge from the nearest road.  In winter, the dogs hauled in our supplies (people food, dog food, etc., as well as our firewood).  I was always looking for challenges, so I set my sights on sled dog racing.  I especially loved the philosophy of the Yukon Quest Sled Dog Race which was designed at the time as a competition for real working dogs, emphasizing excellent dog care, and also the bush skills of the musher.  My father ran the Quest in 1988 and I decided to run it in 1989, when I was 18.
What do you love about working with huskies?
I think the thing I love the most is that every dog is so different. You are trying to help every dog be the best they can be, whether that is a good team dog, or an amazing leader, or a good pack dog on summer hiking trips, or a dog who loves canoeing or going for walks, or all of those things – whatever that dog has an aptitude for.  Every dog is always at a slightly different stage and it is your job to set things up to help that dog succeed and develop the best they can.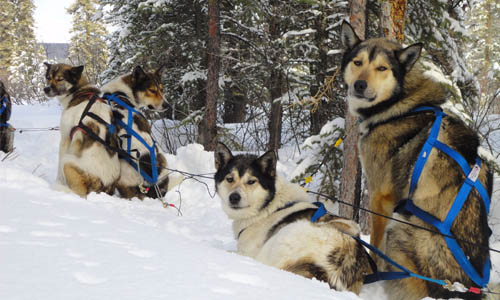 Do you have a favourite?
I have a lot of favourites. My current main leader, Finn, is a happy-go-lucky cheerful clown who also happens to be a great trail breaker and a hard working lead dog, as well as being the fastest harness chewer in the north!  He loves his job and does it well even though he doesn't take it too seriously!  Lontra, his 16-year-old great-grandfather, is another special dog, very regal and dignified.  He was a reliable team dog on many long expeditions, as well as a gentle puppy trainer during his career.  Now as a retired dog, he enjoys having the run of the dog yard and visiting with the other dogs.  There are the 12-week-old puppies, Finn's grandchildren, Ladybug, Firefly, Libelle, Skeeter, Dragon, and Hornet, whose favourite sport is bounding through the snow on walks and searching for dried rosehips left over on the wild rose bushes…. (Except for Libelle, whose favourite sports are shaking old gloves, chasing a ball, and lying in front of the stove.)  And then there are so many other special dogs: Oz, Muffin, Tin Man, Brick, Peppermint, Sorrel, Biscuit, Hickory, Timber, Teak, Davey, Violet, Peanut, Snoopy……and, and, and…… Each dog is really unique and special in their own way.
What was the hardest thing about the doing the Yukon Quest?
The hardest thing about the Yukon Quest is that you have a combination of difficult terrain (mountains, river ice, etc.), cold weather, and lack of sleep.  Any one of those things by itself is not so bad, but when you put them together it does make it quite an endurance event.
What are your most memorable moments during your time on the Yukon Quest?
I have many memorable moments. One that stands out is in my first Yukon Quest, after climbing Boulder Summit.  I had heard what a tough slog and tough climb it would be, but somehow it was easier than I expected.  We got to the top and the Northern Lights came out and I stopped to give the dogs a snack and my lead dog Nahanni was rolling in the snow.  It felt so great to have that behind and be on the top of the world with a happy dog team.  Another memorable moment would be also from my first Yukon Quest.  I had run during the night through a very tough rutted piece of trail with a heavy sled.  After some hours of running, we suddenly emerged at the top of a hill in the moonlight overlooking a great valley and the confluence of the Pelly and Yukon Rivers. It felt like looking at the lifeblood of the Yukon, and feeling the history of all the gold-seekers who travelled through that area, and the centuries of First Nations people who lived there before them.  Then we mushed down the hill and the trail went into a little forest of poplars and there was a gate with a lantern hanging from it and a little sign that said "One Mile to Country Hospitality".  That felt like a little island of warmth and welcome in the middle of the wilderness.
You live in a cabin off gird in the wilderness and the only way to get there is either by boat in the summer or by dog sled or snowmobile in the winter. Why do you choose to live so remotely? 
I love the fact that I can look out our back door onto miles and miles of rolling hills and forests and out the front door to mountains and lake.  It is a perfect place to have a dog team, too.
How does being off grid work with electricity, heating and water?
For electricity we have a battery bank and an invertor. We charge the batteries with a generator as needed.  We try to keep our electrical usage fairly minimal. Freezers in summer are the biggest user.  Our goal is to put in solar panels and do as much of the charging that way in the future.  Heating is by wood.  (Two of the guest cabins have small propane or oil furnaces though for any guests who don't want the work of a wood fire.)  Water for washing and for animals comes from the creek that runs behind the house.  We usually pump it in the summer, but carry it all by hand in winter.  We also personally drink the water from the creek, but use well water and bottled water for our guests.
What happens if you forget to buy milk?
We tend to have lots of extra food on hand at any given time, so if we were to forget something we would not go hungry.  However, if we were to forget to buy an item, we would just have to wait for the next town trip.  Town trips can be more than once a week during summer and winter when we have dog sledding guests or hiking, boating, or canoeing guests.  However, during the "in between" seasons when the lake ice is thawing or when we are waiting for the lake to freeze, it can be 4 to 8 weeks between town trips.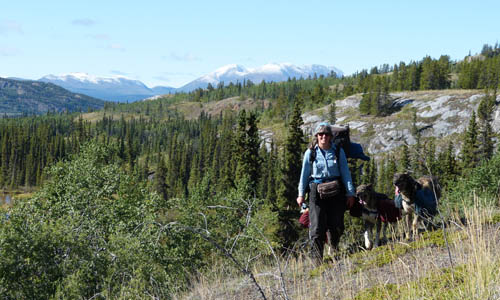 What do you love about living in the wilderness?
Moonlit nights, snowy trails, northern lights, stars, animal tracks on the hill, birds at the feeder, the first crocus blooming while there is still snow on the ground, leaves coming out on the poplar trees, swans migrating overhead, a calm lake with the mountains reflected in it, dipping a pail of water from the creek, golden leaves falling in autumn on top of a new snow fall, puppies bounding through the snow, a crackling wood fire in the stove on a winter's night….
You now run a wilderness holiday retreat where guests can learn to drive huskies in the winter or canoe and hike in the summer what do you enjoy most about this?
I love being able to share what I love with so many great people from around the world.  We decided not to ever get so big that we weren't able to guide all of our trips personally.  So we are lucky to be able to enjoy and get to know the people who come here.
How many huskies do you have at the moment?
Between my dogs and my father's, we have 64 adults including working dogs and retired dogs.  Then we also have six puppies.
How cold can it get in the depths of winter? 
The coldest it has been out in on the trail is about -56 C.  Here at our house -49 C is the coldest we have had it, but that was only once. We can also get it near 0 C in the depths of winter, but you always have to be prepared for the coldest it might get.  Average temperatures in mid-January are highs of about -13 C, lows of – 22 C.
The Yukon Quest will take place February 1, 2014
Click here to learn more about Jeninne's wilderness adventures