The World Ski and Snowboard Festival has come to an end, and with it the official end to the winter season, though Blackcomb will stay open until May 26th.
The weather varied from snow to sun, to rain, to wind, to fog, and the conditions where typical for spring. The slopes were full of shredders getting their final ride in of the season and with seasonairs partying it up in fancy dress.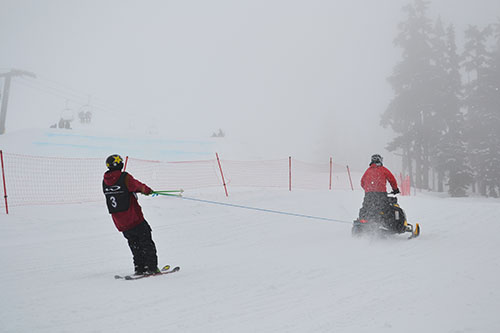 The World Ski Invitational took place with slopestyle and the big air. The crowd packed-out skier's plaza to watch the world's best freestyle skiers, including Britain's James "Woodsy" Woods, pull of some hair-razing tricks of a 65 foot jump.
The top spot went to Sweden's Jesper Tjader, who, on his second run, scored a 90.00 with a Right Double 1620 mute grab. America's Bobby Brown came in at a close second, with a score of 89.00. He threw down a Switch Double Misty 1260 mute. In third place, flying the flag for Canada, was Vincent Gagnier, with a score of 87.60. Woodsy came in at a respectable fifth with a score of 83.60.
Low cloud hampered the slopestyle event as the athletes waited hours on the side of Blackcomb mountain, waiting for it to lift. During a break in the cloud, the girls managed to complete a two-run final, but the boys didn't manage to ride a final run. Instead, the scores from the semi-finals decided the winner.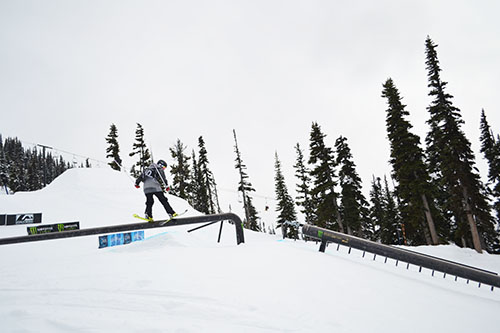 Canada dominated the women's competition, with Nikki Blackall from Ontario coming in at first place with a score of 77.67. Second went to Anouk Purnelle-Faniel from Quebec with a score of 67.67, and third went to Cassie Sharpe from British Columbia, who scored 57.50.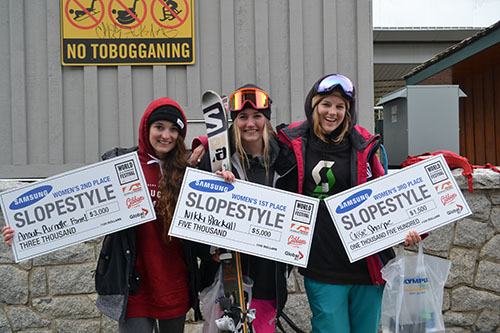 In the men's slopestyle, Bobby Brown took another seat at the podium, coming in second with a score of 84.67. Jossi Wells, from New Zealand, came in third. First place went to Canadian Evan McEachran with a score of 87.17.  Woodsy came in at 7th place with 76.83.