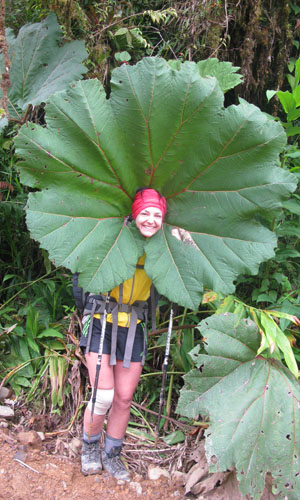 Fiona Gillanders (aka Fee) and I met on the rugby pitch well over a decade ago. At the time we both played club rugby at London Wasps. Fee was also a regular first choice Scottish flanker while I tried (but failed) to progress from the Welsh A front row in a bid to get my first full cap.
Life took us on different paths when our rugby days finished, and Fee moved on to live in Australia. The joy of social media meant that keeping in contact was easy, and we both followed each other's nursing career with great interest.
Since hanging my rugby boots up in 2006 my time has been consumed by a life of adventure. In 2007-8, I spent 77 days rowing across the Atlantic in an all-female pair. In 2009 I spent 78 days setting a world first record as part of the first all-female crew to row across the Indian Ocean. And in 2012 I sailed across the Pacific Ocean – completing my hat-trick of oceans.
With an addiction for adventure I immediately began planning a new one – joining the dots! Walking from the Atlantic Caribe coast, where I'd finished my first row, all the way across to Pacific Ocean, which I had sailed across.
A brief mention of the idea to Fee on Skype, and she immediately said "yes". The plan was set!
On Dec 9th we met in San Jose, Costa Rica, and with the help of my friend's family, Javier Crespo, we made last minute plans. Getting gas cylinders for the cooker, batteries for the GPS, extra food to add to our boil-in-the-bag supply and importantly a local phone and sim card. We then spent hours studying the map and discussing the route.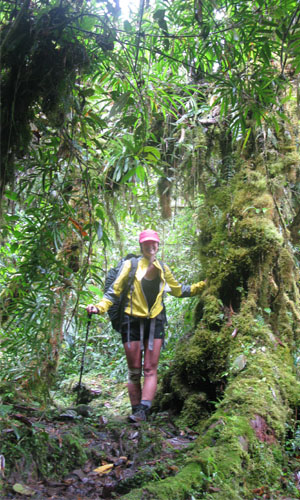 With all set we caught the bus to Limon – our start line.  Our first day began with persuading a taxi driver to take us as far up north as possible. Once there we scribbled 'START' in the sand and took a few photos to mark the occasion.
We followed the coast north for around 5km before turning inland, and following a railway line through woodlands. Within hours we were surrounded by Costa Rica's beautiful flora and fauna. Even a monkey's joined us to say 'hi'.
Despite having a notorious reputation for being a dangerous area, we were warmly greeted by all, and camped in the porch the home of a banana plantation manager for our first night.
The second day was navigationally easy as we mostly followed the railway line, although physically challenging as we had to jump from sleeper to sleeper to cross the numerous bridges we came across. Banana Plantations gave way to pineapple farms, and we enjoyed the variable view and terrain.
Our days started early so that we could rest in the shade when the mid-day sun struck. Depending on how much water we carried and how heavy the tent was from the night's rain our backpacks varied from around 19 to 25kg – a heavy load for a Welsh girl to climb in the heat and humidity of Central America despite being a prop forward.
 The second night was spent camping on the side of the railway line so that we could have an early start. Day three seemed to signal our entry into the Bermuda Triangle! The roads we expected didn't appear, and bridges we needed had been washed away, leaving rivers that we couldn't cross.
We camped on night three in the back garden of a lovely family – whose dog probably woke the whole village as we tried to sneak away quietly at five thirty in the morning. To celebrate reaching the 100km mark we treated ourselves to a lunch at a local soda café. Rice, beans, fried cheese, chicken and plantain never tested so good!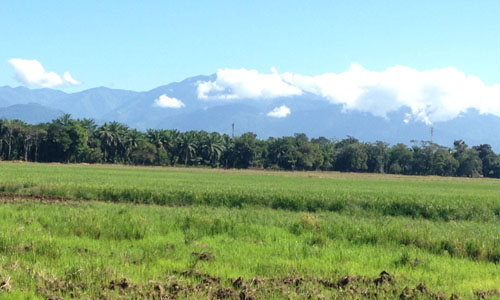 That night we were warmly welcomed to camp by Xinia, next to their swimming pool and fishing ponds. Despite speaking no Spanish we were always well looked after. My 'Frenish' – a combination of the limited Spanish and French words that I know, appeared to be just enough to get us by, and time and time again we were touched by the generosity and hospitality of the Costa Rican people.
Day four was particularly challenging. Rain fell endlessly, and the sugar cane fields offered no inspiration to keep walking. Our search for a place called Pejibaye seemed never-ending and local directions and predictions varied greatly.
Thankfully we found Pejibaye and were welcomed by the loveliest of ladies who treated us to a hot meal and a place to camp for the night.
On day six we started the climb of our first mountain. It was a tough challenge, but we were well rewarded with amazing panoramic views of the Costa Rican landscape.
Wet and cold we finally reached Tapanti as dusk fell. The 'vacancy' sign outside a lodge was too tempting and we treated ourselves to the comfort of a dry and warm bed.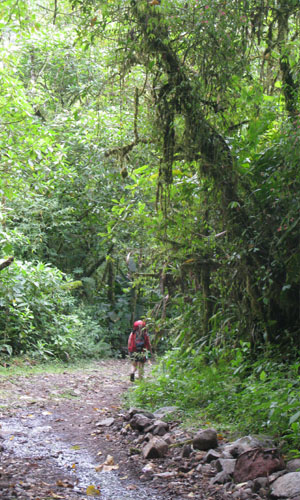 As breakfast was included we had a late 7:30am start on day seven. We added to the challenge ahead by walking further than we should have rather than turning south on a path leading up to the mountainous jungle. With two roads just 500m apart we still managed to take the wrong one! And after six hours of climbing we found ourselves at a water reservoir with no choice but to turn round and walk all the way back down, sleeping that night only 5km away from the lodge of the pervious night.
Day eight was truly remarkable, as we climbed up to 2400m (7874ft) and walked through 5-6km of deep jungle. The high altitude and rain meant that we were freezing cold at the end of a 14 hour day hiking, but what an experience!
It is said that 'On a journey of a 100 miles, 99 miles is just halfway!'. And on day eight and nine nothing could have been truer. But we were clearly getting fitter with each day's hiking (helped by our bags getting lighter) and our daily average increased from around 25 to 40 odd kilometers.
When we finally hit the Pacific Ocean at Quepos we could only cherish all the amazing experiences we'd experienced, especially the generous and hospitable welcome of the Costa Rican people that had captivated us with the depth of beauty there.
Pura Vida.
Elin Haf Davies is a childrens nurse and adventurer. She lives in Wales. find out more at www.elinhafdavies.co.uk