Sea to Sky Magazine is for all the girls who love to climb, board, hike, go faster, explore the world and push their limits – but still love fashion and all those other things that's great about being female.
The website was started because the co-founder couldn't find anything that covered all the extreme sports, fashion, travel and gear. She also thought the kick-ass girls, who train day-in-day-out to be at the top of their sports, deserve a little more recognition. Here Sea to Sky will be interviewing and profiling those women who are making waves in extreme sports.
Sea to Sky Magazine was named so because it would cover all extreme sports from the Sea to the Sky. The founders, who were living in Canada – specifically Vancouver, British Columbia – at the time, were probably driving along the Sea-to-Sky Highway when they came up with the name, which just goes to prove that nothing is new in this world.
So here is your one-stop-shop for the latest news in extreme sports, gear reviews, travel and lifestyle fashion.
Sea to Sky, be exhilarated.
Meet The Team:
Cat Hughes
Co-Founder/Editor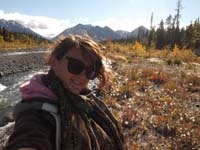 I founded this website because I love extreme sports and being in the outdoors – and yet I couldn't find a website or publication that covered all the extreme sports, fashion, travel, gear that was also aimed at women. So, as I couldn't find one, I decided to create one – Sea to Sky Magazine.
Before the creation of this website I was working in varying jobs, from freelance writing, to temping, to TV production – anything that would pay for my travels and buy me new and expensive shiny gear.
When I'm not working, I can be found hiking, climbing, surfing (in the summer), or snowboarding (in the winter). If I'm not outdoors, working, or sleeping, I'm probably checking out new gear online whilst watching surfing or snowboarding videos.
Robert McCrimmon
Co-Founder/Art Director/IT Guy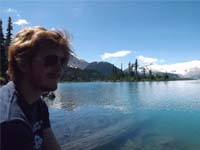 I believe that there is a large gap in the market for what Sea to Sky Magazine offers. I have been a snowboarder and skateboarder most of my life and am very familiar with the magazines and websites aimed at guys, which are plentiful. To be able to have the opportunity to create a company that incorporates my hobbies and interests in a new and needed way is amazing, even if I am not the targeted audience.
My background is in graphic design and multimedia. I attended Leeds College of Art and Design and had various jobs as in-house and freelance graphic designers, and I always like to get my fingers into projects whenever I can. I love to snowboard and I'm always up for trying new sports and pushing my limits, anything where there is potential death I'm usually up for.
Delphine Khouri
Copy Editor/Web Content Editor
Based in London (the UK one), Delphine is a part-time freelance proof-reader and copy editor. She has been working as a copy editor with co-founder Cat Hughes for many years, always ensuring her travel writing articles and blogs are grammatical perfection – and therefore she is now also working alongside her on Sea to Sky to ensure the very same thing.
In a fit of irony, Delphine is not an extreme sports fan – in fact she's a pure indoor nerd and prefers to stay very far away from actively sporty things! However, she loves extreme RPG playing marathons on her MacBook and Xbox 360, and is very extreme about ensuring good grammar and writing!
Contributors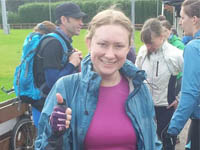 Based in the UK, Sophie  is a freelance writer and bar & restaurant critic. When she's not busy sampling the  best of London's food and drink scene, she can be found training for triathlons, Half Ironmans, and other such challenges. She also loves to travel, and whether it be city breaks or more off-the-beaten-track destinations, you can be sure she'll have packed her running shoes.
To check out Sophie's blog click here
 Katy  is a registered Hatha yoga teacher practicing in London and Cardiff. To find out more about her classes visit http://rohayoga.wordpress.com/

I am a marketing executive and level 2 cycle coach living in the UK, I believe in living life on the edge and my passion is for outdoor sports, when im not working I can be found exploring the single track trails around the UK on my bike or planning my next travelling adventure (which will usually include some kind of extreme sport whether its snowboarding or deep water soloing) I recently decided to take on a new challenge and race XC mountain biking which has now taken over most of my spare time as when im not racing im training. Life is an adventure get out and live it!
Sarah Weldon